Free UK Delivery Over £200*
Shocking Workplace Safety Statistics That Will Remind You To Take Proper Safety Measures
Shocking Workplace Safety Statistics That Will Remind You To Take Proper Safety Measures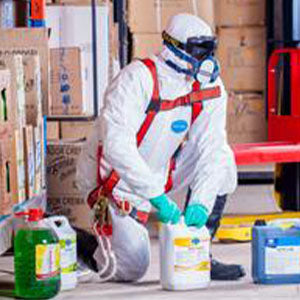 No one likes to be the barer of bad news but when it comes to workplace safety, ignorance isn't bliss. In order to provide proper protection in the workplace, one must understand just how common workplace injuries and hazards are. After all, unless you've experienced a workplace hazard yourself, it seems like a foreign topic that you only hear about on the news. However, workplace injuries are happening right in your very own backyard and to prevent them from happening in your company, you must acknowledge the risks.
Unhealthy Working Conditions Contribute To The Burden of Disease
World Health Organization conducted a study to determine the health impacts associated with unhealthy work conditions. They found that at least 1.6% of the burden of disease was caused by unhealthy work conditions and although that number may seem small, it's frightening. The same study also found that the following workplace factors that contribute to the burden of disease include:
Injuries: 40% of the occupational burden of disease
Noise: 22% of the occupational burden of disease
Carcinogens: 18% of the occupational burden of disease
Airborne Particulate Matter: 17% of the occupational burden of disease
Ergonomic Hazards: 3% of the occupational burden of disease
Construction, Transportation and Storage, and Manufacturing Have The Highest Incidence Rate of Non-Fatal Accidents At Work
Studies have found that the three industries with the highest incidence rate of non-fatal accidents at work are in the following industries:
Construction
Transportation and storage
Manufacturing industries
What's shocking is that these three industries have remained as the top industries for non-fatal accidents at work from 2010 to 2015, when the data was last updated. Thus, it's safe to say that enough isn't being done to prevent non-fatal accidents at work, particularly in these three industries.
62.4% of Accidents At Work Resulted in the Worker Being Unable to Work for Less Than Three Months
The same study reported that 64.4% of accidents that occurred at work in 2015 resulted in the victim being unable to work for less than three months. These accidents happened mainly in the human health and social work activities (68.9%), 71.2% were in the accommodation and food service industries and 78.8% were in the public administration and defense industries.  Additionally, 8% were off work for longer periods with some experiencing permanent incapacity. 0.1% of these accidents were fatal. Aside from the morale issue of not being able to provide a safe environment for workers, having victims off work for extended periods of time can be costly and even detrimental to your business.
Mining and Quarrying Industry Results in 15.9% of Victims Being Off Work for Three Months or More
In comparison, the non-fatal accidents that required the victim to be off work for three months or more occurred in the mining and quarrying field with 15.9% of incidences requiring prolonged periods of time off.
Agriculture, Forestry, Fishing and Mining Have The Highest Fatal Rates
Of the accidents that were recorded in the 2015 study, 0.2% resulted in death. The agriculture, forest and fishing industries accounted for 0.3% of these fatalities, and the mining and quarry industries were responsible for 0.7%.
Shoulders, Arms, Hands, Hips, Legs and Feet Are The Most Common Body Parts Injured in Non-Fatal Workplace Accidents
Studies revealed that of the non-fatal workplace accidents that occur, the most common body parts injured were the to the upper body which includes shoulders, arms and hands (39.4%), and to the lower extremities which includes hips, legs and feet (28.9%). Notably, back injuries also accounted for 12.7% of all non-fatal workplace injuries.  
And that's only to name a few of the most recent statistics pertaining to workplace injuries. Needless to say, it's imperative that a stronger approach is taken towards providing a safe work environment for workers. Shop Sentinel Laboratories for premium safety gear for workers and together, let's decrease the statistics.